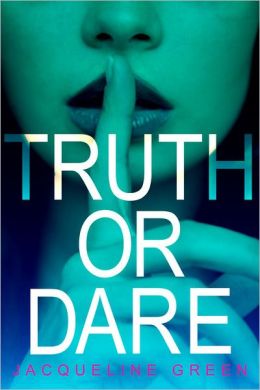 Synopsis:
When a simple round of truth or dare spins out of control, three girls find it's no longer a party game—it's do or die.
It all started on a whim: The game was a way for Tenley Reed to reclaim her popularity, a chance for perfect Caitlin "Angel" Thomas to prove she's more than her Harvard application. Loner Sydney Morgan wasn't even there; she was hiding behind her camera, as usual. But when all three start receiving mysterious dares long after the party has ended, they're forced to play along—or risk exposing their darkest secrets.
How far will Tenley, Caitlin, and Sydney go to keep the truth from surfacing? And who's behind this twisted game?
Review:
Truth or Dare by Jacqueline Green is not your middle school game of truth or dare. A whodunit that reminded me of the do or die tone of Pretty Little Liars, Truth or Dare had me fearing for not only the secrets but the lives of its three main characters: Tenley, Caitlin, and Sydney.
The vast majority of young adult fiction novels are written in first person, and rightly so; nothing allows readers into a character's head more than first person. But Jacqueline Green has chosen to write in third person, and she does third person right. In chapters with alternating focal characters, she allows readers into the minds of Tenley, Caitlin, and Sydney. I felt Tenley's desire to have her old life back, Caitlin's ever-present anxiety, and Sydney's changing feelings about who matters most to her in the world.
In addition to its three main characters, Truth or Dare has a well-developed cast of minor characters. The most notable of which is Bentley, best friend to Caitlin since Tenley moved out and she moved in. Beautiful, popular, and a cheerleader, Bentley seems to get everything she wants, but she's just as insecure as the rest of us. Green also throws an array of attractive boys at the girls: the older, does-as-he-pleases Guinness, carefree surfer Tim, and just a little stuck-up Hunter. There are also the nerd who gets a little too excited when Caitlin and Tenley go for a swim with him and the quiet boy who's always writing a green notebook. In addition to these teenage characters, Tenley's, Caitlin's, and Sydney's parents provide a realistic set of adult characters with problems of their own.
As the novel progressed, I found myself rooting for some characters and being absolutely disgusted by others. But most of all, I wanted to know who the anonymous darer was. I got caught up in Tenley, Caitlin, and Sydney's guesses while also forming some guesses of my own. But Jacqueline Green does not make the identity of the darer easy to figure out, allowing for an absolutely shocking climax and conclusion.
I would have been just as satisfied with this book if it ended just a little sooner instead of setting itself up for a sequel, but since it's a planned series, I cannot wait to learn more about the darer(s?) and the darees in Jacqueline Green's next book. Maybe it will be time for a little truth…